Discover more from The Daily Kina
Home delivery, frequently on a daily basis, of the world's most specific single-child report.
Changing Table Useless For Big Girls
Kid, parents agree: She is all grown up, we are in denial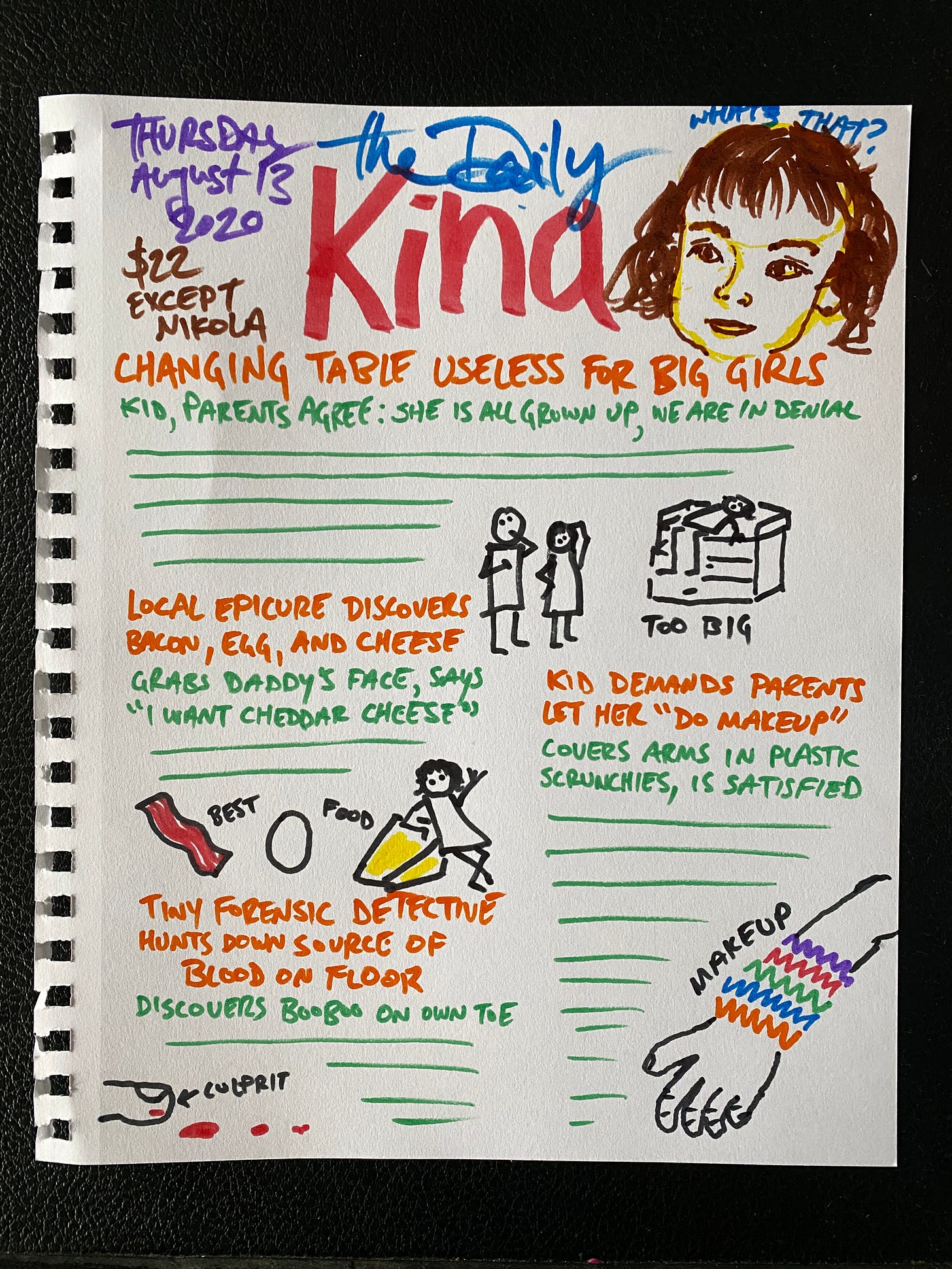 Kina's room (once our home office) is small and oddly-shaped, a triangle roughly thirteen feet from end to end. At its narrowest point, it is six feet across; at its longest, ten. On its most spacious side, next to a closet, are six precious square feet of IKEA changing table (STUVA/FRITIDS). That STUVA/FRITIDS holds many swaddling blankets, a folding crib, a toy barn, and a dispenser of wipes—none of which (except for the barn) is useful to us anymore. Back when she was eighteen inches long, we would lay her down on that table to change her diapers, and it was very cute (the baby, not the diapers). But the other day, two things happened: I measured her, finding that she is now literally twice as big—three feet tall; and I actually looked at her while I was putting her pajamas on, enormous—her legs dangling completely off the table—realizing suddenly that what she was teetering on was a very large piece of baby nostalgia.
This is a person who can put on her own clothes now, who no longer craps in her own pants, who is so tall when she stands on the changing table that it is difficult to dress her from that position. We have waited too long to carry STUVA/FRITIDS downstairs. We have done so because we are having trouble coming to terms with her big-kidness, and that denial manifests in several other objects in this house: the book Pat the Bunny, two artisanal rattles, an ice pack for milk bottles, many swaddling blankets, and 164 diapers. While I will probably keep the expensive rattles, we need to get rid of everything else—including the changing table. Laurea, Kina, and I have discussed on multiple occasions the right piece of furniture to replace it, settling ultimately on "a tent or teepee"—the kind of space that is Kina's alone, and not a place we share, which feels unfair (given the number of diapers we've changed) but is just. Her small triangular bedroom-née-office is growing up, and while I'm not entirely comfortable with it, I'm perfectly capable of buying a teepee and obviously need to get over it.
Tiny Forensic Detective Hunts Down Source of Blood on Floor
It looked like tiny splashes of raspberry juice on the linoleum. Kina wanted to know what it was. She crawled around the living room floor, identifying little patches here and there. We were stumped, because nobody had identified a booboo. As it turned out, the booboo was secret and small, and on Kina's big toe. We put a Hello Kitty bandage on it. We cleaned the floor. As the resident anxious person, I have spent the rest of the day looking for the little sharp culprit, which remains at large.
---
Welcome, new readers of The Daily Kina. I hope you like reading about a specific three-year-old every night. There are a number of back issues to read in our archives, which—if read carefully—will explain things like the fluctuations in price, Kina's obsession with rainbows, the television show Octonauts, and my progress as an amateur portrait artist. We are one hundred and thirty three days into the life of this publication. Let's see how long we can keep this up together.
dad