"Can You Look In My Brain and See Flowers?"
Daddy investigates; flowers will come out for eggy bite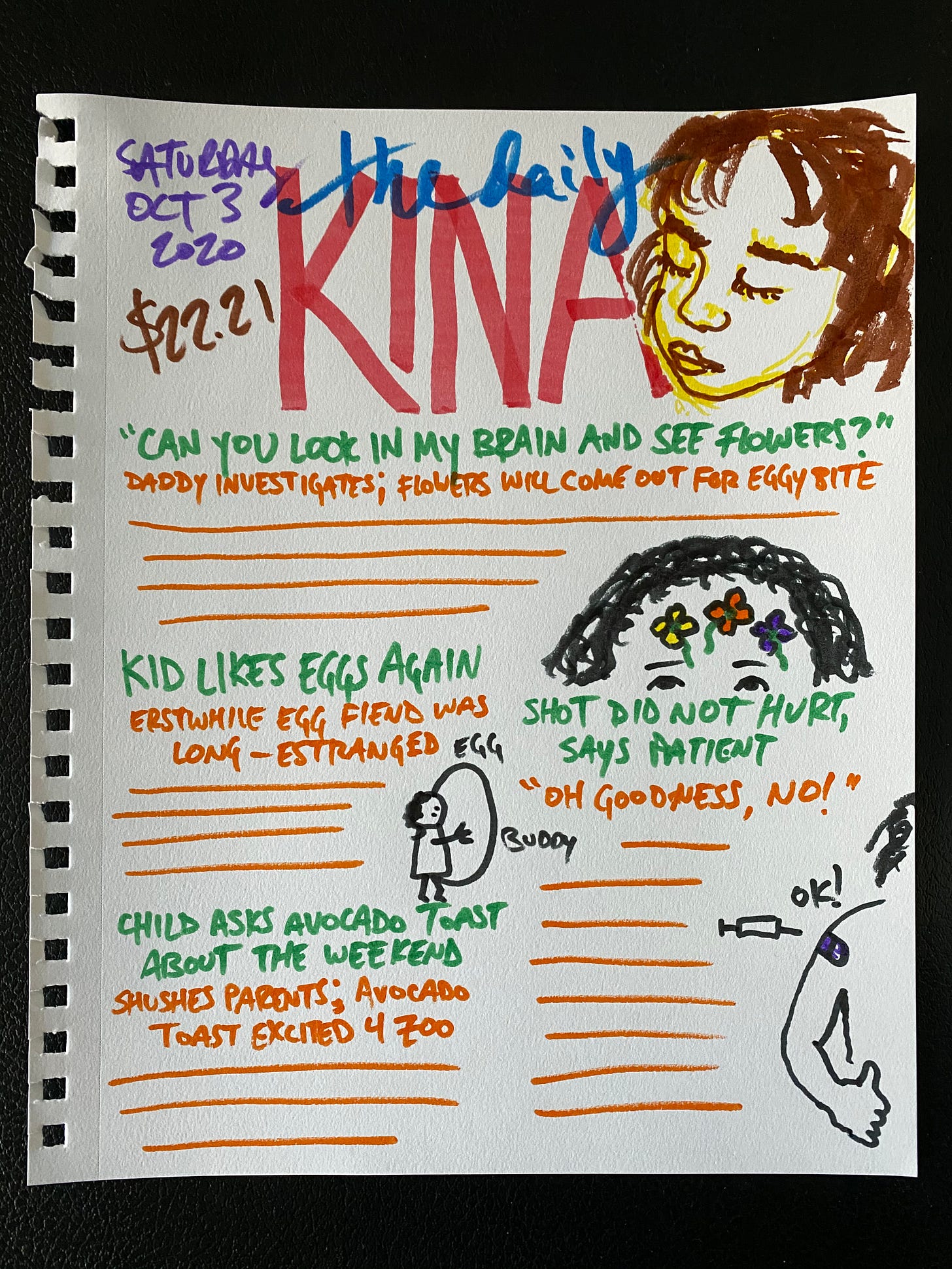 Two related vignettes—
First: Periodically, when Kina is tormented by injustice or her father or the injustice of fathers, I will ask to see if there is something in her brain that might be annoyed. If that request calms her down, I then conduct a thorough examination to confirm the presence of annoyance. First, I look into her eyeballs to see if I can identify anything annoying inside her head. Then, I try to see the sides of her brain through her ears. Finally, I have her open her mouth so I can get underneath the brain. If I find something—which I often do—then I'll whisper into Kina's ear so that the annoyed thing can hear me clearly, asking what it might accept to make its way out of Kina's brain. Often, the answer is "a special treat", but occasionally I can convince it to leave by doing a silly dance.
Second: On our living room wall hang two portraits, of Laurea and me, taken on our honeymoon. In them, we are each sitting in front of a gauzy red background, dressed in comfortable clothes, with jasmine flowers stuck up our noses. Kina is fascinated by these pictures, and often points out to us that we had just gotten married (true) and that the flowers were probably itchy itchy (true). Sometimes, she talks about putting flowers up her nose, but seldom proposes we actually follow through. This is the only art in our entire house that she ever comments on.
So, this morning, after regaling me with stories about these portraits once again, Kina asked me calmly to look into her brain and see if I saw flowers in there. It took a bit longer than usual to notice anything in her brain, since the flowers were quite small and unassuming—but there they were. I asked them to come out, since flowers are often so itchy itchy, and they replied that they might, in exchange for some eggs. This came as a surprise to me, since Kina has not liked eggs for many months, but on further reflection, I understood that these were new flowers with their own tastes, and that we couldn't let our past perceptions of Kina's brain hold us back from new (or renewed) cravings. Goodness, no! We gave her a big bite of eggs, which Kina savored as the flowers invisibly emerged from her ears. I will look for them again tomorrow.
dad