Bunny Puppet Says "Hello Mister Guy!"
Does a little vaudeville patter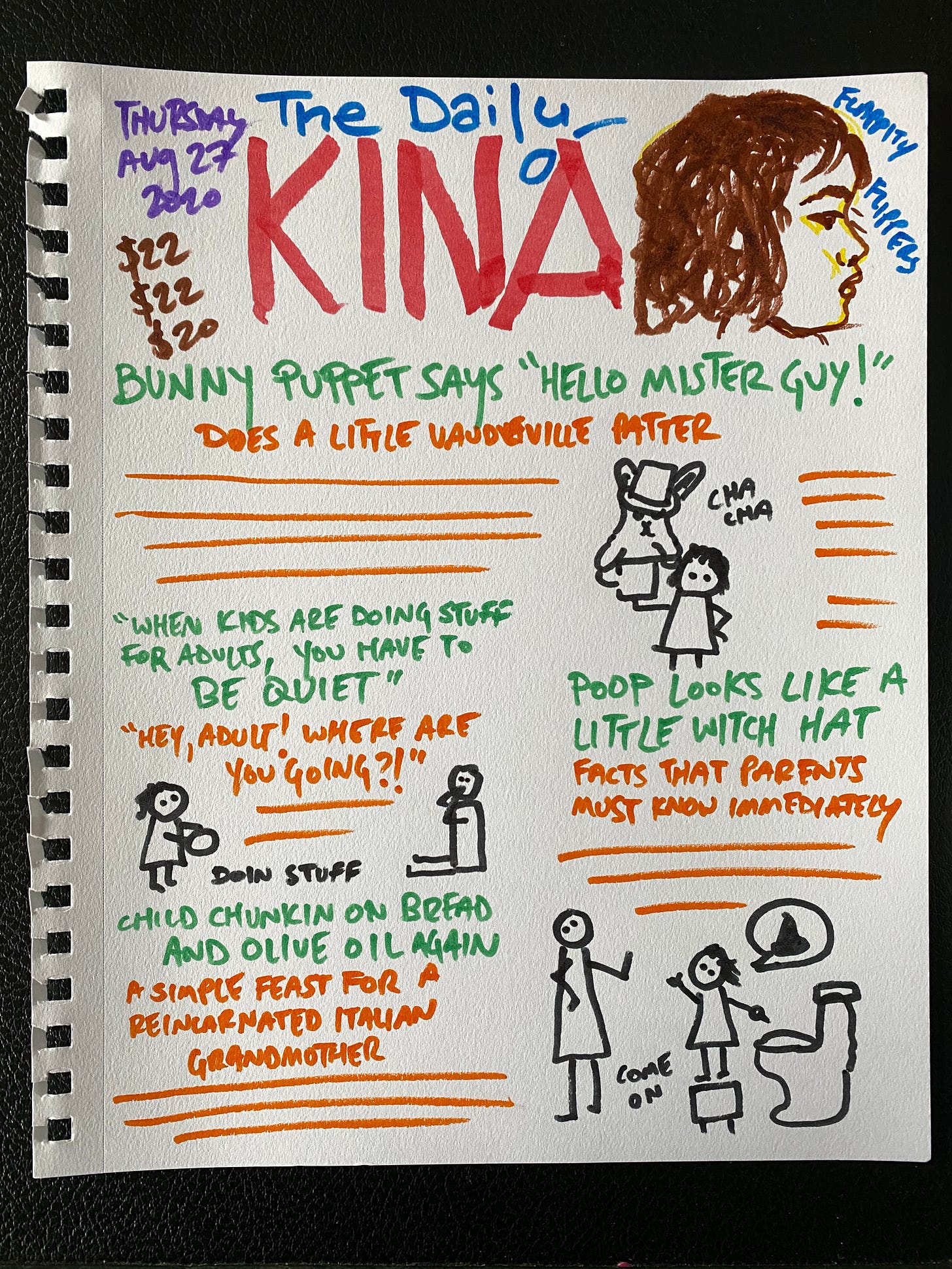 We bought Mister Bunny at a toy store two doors down from Veselka on 9th Street about two years ago. Kina's only puppet, Mister Bunny is typically caustic and rude, but shows occasional flashes of real empathy; he'll be there for you in a pinch, a consolation when you are inconsolable. This morning, while I was dressing Kina, he hopped onto her arm and let down his hair a bit for a little song and dance, a touch of the old cha-cha-cha. We don't really get to see Mister Bunny that much these days—he's a bit of a supporting player in the menagerie—but I've always appreciated his brusque Brooklyn-Catskills attitude and his plush little tummy. There's no real essay here; I just wanted you to know Mister Bunny.
Poop Looks Like a Little Witch Hat
I didn't see the poop in question, but I could hear both real urgency in Kina's call to witness it and stunned amazement in Laurea's voice once she'd seen it. It must have been the spitting image.
Child Chunkin on Bread and Olive Oil Again
As I finished writing this headline ("Child Chunkin on Bread and Olive Oil")—the last of four—in green marker ink, I realized suddenly that I'd written it before. This is the first time in 146 editions of The Daily Kina that this has happened, which says a lot about both how prolifically ridiculous she is and how much she loves bread and olive oil. Rather than rewrite the whole edition, I added the word "Again" to the end of the headline. History will look fondly on this editorial decision, I'm sure.
dad