Brooklyn Child is Overtired
Building residents are well aware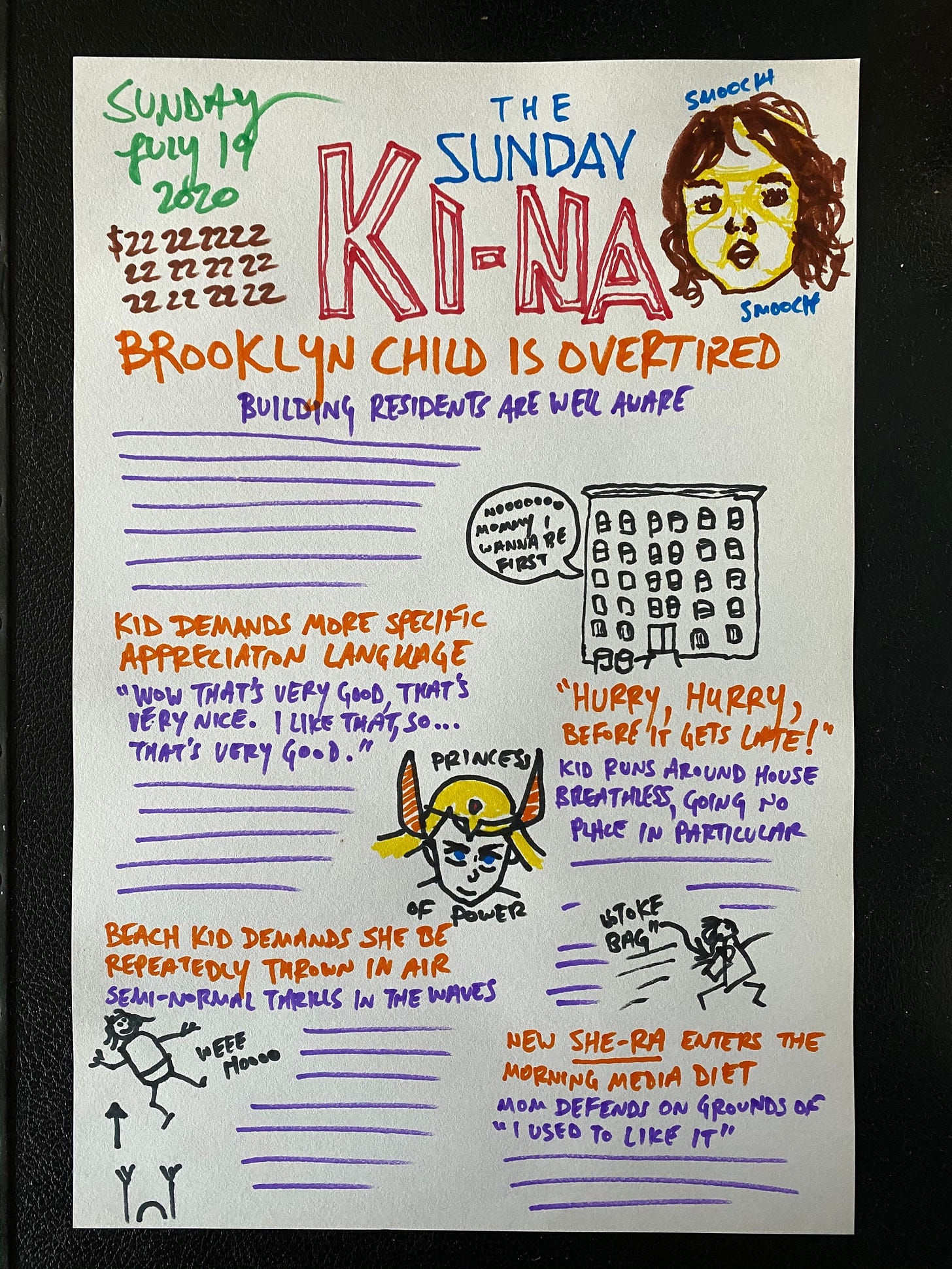 What are the topics we're hitting a lot these days? Pizza, witches, rainbows, beach, sleep. Weekends are intense, so the cost of a missed nap on a busy Saturday eclipses that of a weekday, which can make us all exhausted (though it hits the kid extra hard). An intense Saturday, then: We drove out to the beach, pitched our tent, drew our giant circle, and basically spent four hours in the water with Kina. She worked on swimming and dunking, built sand castles, performed "Let It Go", ate chicken, coached us on very specific language we should use to appreciate boats (another version she wanted us to parrot back to her went, "Wow that's very good; yes, I told you that that is very good for night."), and asked me several dozen times to throw her as high into the air as possible—all while being buffeted by waves. By the time we strapped her into her car seat and got her home, she was totally fried and insisted that she and only she could climb the stairs to the apartment, that she needed to take her shoes off, and that only Mommy could give her a bath. Cue more or less an hour and a half of crying. I have no idea what my neighbors (many of whom I've shared my life with for the last twenty years) actually think about my screaming child, but I do know—beyond a shadow of a doubt—that they are aware of her.
She did fall promptly to sleep, I should point out, upon being offered the opportunity. I measure her exhaustion by how many Baby Rainbow Unicorn stories she will settle for, and the number last night was barely two (down from a steady four). And she woke up after six, which makes—and you heard it here first, friends—four straight days of wake-up times that start with the number 6. I think we unintentionally scared her into compliance by putting a potty in her room, and now she doesn't yell for potty stuff—not because she intends to use the room potty, but because the thought of using it weirds her out, and she'd rather just sleep in. I guess most everybody hates the idea of peeing in their room. So, right, incentive.
"Hurry, Hurry, Before It Gets Late!"
With this headline, I just wanted to hammer home just how much of Kina's role playing is based on rushing. Should I feel bad about that? Is that all New Yorkers? Is it genetic? I just imagine her telling me on the phone in twenty years that she is so busy these days, and that work is just crushing her, and I am one hundred thousand percent going to remember her sprinting back and forth from her room to the front door in her undies carrying her "toke bag" and breathlessly telling me to get a move on.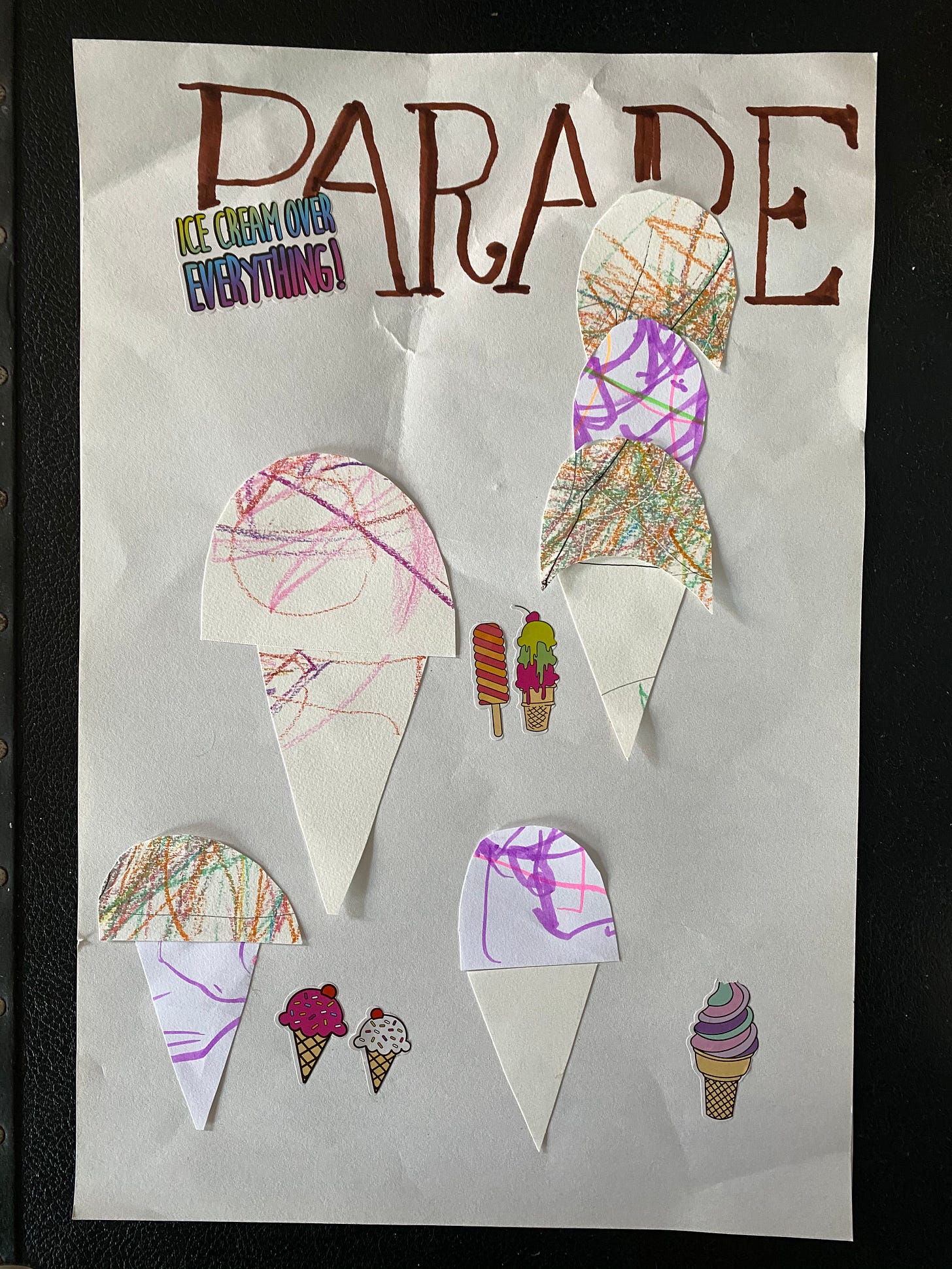 Today's Parade is ice cream, which is probably the one Kina topic I have not sufficiently covered on A1. We'll get a team on it. Might need to do some research. I assume all the scribbles here are sprinkles.
Getting started on the Monday edition. Everybody sleep well, and do feel free to share this with your friends and loved ones who enjoy ice cream, rushing around, the new She-Ra, or collapsing in tears at the smallest provocation.
dad