Brave Child Demonstrates Power Poses
Get through the day by manifesting Big Kina Energy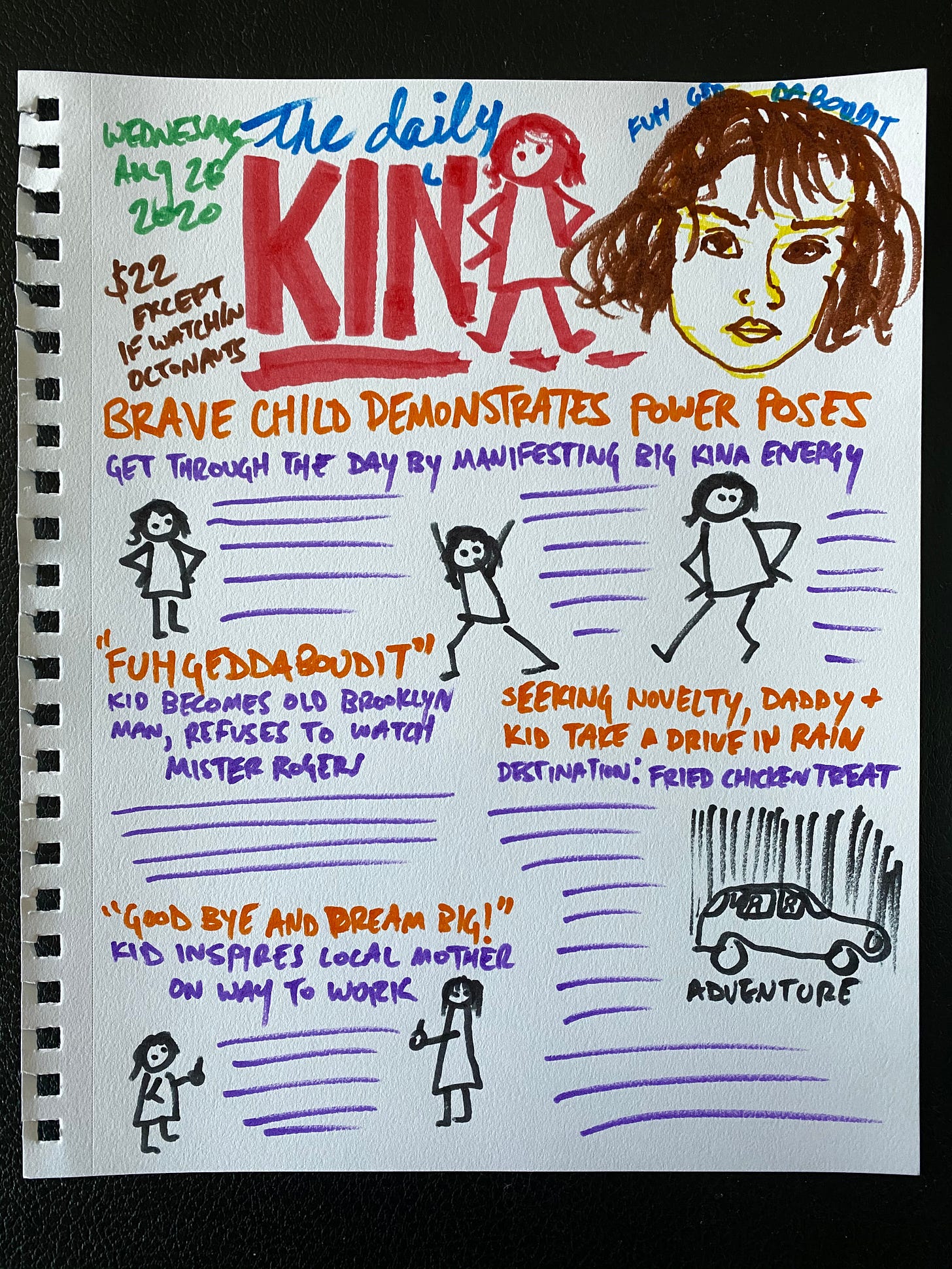 One of the great things about Kina is the way in which she radiates pure confidence. It is hard to radiate anything approximating confidence in 2020, so when you see somebody pull it off the way she does, it really hits. Of late, she's taken to striking poses at random—bold, fearless, confrontational stances that leave you stunned and asking how to pay for a subscription. Sitting on the couch? Expect a hand on a cocked hip. Walking in the door? Warrior pose. Disagreeing with your child? Back turned, double hands on hip; extended right hand to hold top of chair—you're getting a talking-to. I walked into the living room this morning to find her throwing her hands up in the air and running headlong into the couch. She is animalistic. Periodically, I mirror her, and I can feel the balance of endorphins and adrenaline level out. She's onto something, for real.
Seeking Novelty, Daddy + Kid Take a Drive in Rain
I had to step away from the computer after work yesterday, so I decided to take Kina out for a whirl in the car to get some fried chicken. Five minutes in, we hit the traffic doldrums, backed up forever as the skies opened up. Kina and I sat at a full stop under the J train for twenty minutes listening to rain pelt the roof of the car. She asked about the windshield wipers, if we would get wet from the sunroof (nope), whether I would carry her into the restaurant (yep). At Peaches Hothouse, in Bed Stuy, we pulled over to the curb and I unbuckled her from her car seat while the lower half of my body got drenched. She pulled up her collar over her face as we ran into the restaurant, grabbed our chicken, and returned—soaking wet—to the car. By the time we crawled home, the chicken was lukewarm, but Kina's mac and cheese was still cheesey ("Cheddar cheese!") and we were out of our rut. At bedtime, she told me, "I had a nice time with you today, Daddy." Felt great.
---
Good bye, and dream big!
dad